As mobile technology advances, we rely increasingly on our smartphones, making it essential to extend the lifespan of these costly devices. This begins with safeguarding screens, the most vulnerable aspect of our phones. In the bustling world of phone accessories, the Belkin UltraGlass Screen Protector for iPhone has caught attention. This article reviews this much-talked-about product, sizing up its qualities and efficiency in keeping your iPhone screen unscathed.
Product Details
The Belkin UltraGlass Screen Protector stands out in the market as a top-tier safeguard for your iPhone's screen. Developed through advanced technological processes, this screen protector is the epitome of robustness. Its creation involves a double-ion exchange method, a technique that significantly bolsters the glass against damage, positioning it well above conventional screen protectors in terms of strength and durability.
The product range is extensive, catering specifically to various iPhone models. There are dedicated versions for the iPhone 12 Mini, iPhone 12/12 Pro, and iPhone 12 Pro Max, ensuring that users can select the perfect match for their device. Moreover, a noteworthy addition to the UltraGlass protector is the easy-align tool that accompanies each protector. This tool is ingeniously designed to facilitate a perfect, bubble-free application process, allowing for a hassle-free user experience when applying the screen protector.
Key Features
In terms of functionality, the Belkin UltraGlass Screen Protector shines with several key features. A major highlight is its high-definition clarity. This attribute is crucial as it maintains the pristine and vibrant display of the iPhone, ensuring that the screen protection does not come at the cost of display quality. Users can enjoy the true colors and high resolution of their iPhone screens without any compromise.
The screen protector's composition gives it exceptional protective qualities. It has been tested and proven to offer significant resistance to common dangers such as scratches and impacts. Specifically, it boasts a hardness that makes it twice as resistant to scratches and enhances its shock absorption capabilities by five times, relative to other screen protectors. This provides users with the assurance that their phone screens are well-protected against everyday wear and tear.
Ease of application is another standout feature of the Belkin UltraGlass Screen Protector. The inclusion of an Easy Align tray ensures that anyone can apply their screen protector with precision. This method is ingeniously crafted to align the protector perfectly with the phone's screen, eliminating the common frustrations of misaligned applications.
Compatibility is also thoroughly thought out. Belkin has tailored this screen protector to fit flawlessly on Apple devices, particularly the iPhone. The design takes into account the unique contours of each iPhone model, providing a seamless, edge-to-edge fit that further enhances protection and maintains the phone's sleek appearance.

Pros and Cons
The advantages of the Belkin UltraGlass Screen Protector are numerous. Its unparalleled screen protection mechanism shields your device from the rigors of daily use. The application technology incorporated into the product also merits praise, as it simplifies what can often be a tedious process, ensuring a perfect fit without any air bubbles.
Moreover, the UltraGlass does not compromise the touch sensitivity or visual appeal of the iPhone's screen, allowing users to continue enjoying their device's functionality to its fullest extent.
However, there are a few considerations to bear in mind. The premium nature of this screen protector is reflected in its price, which is higher than many standard screen protectors on the market. This may be a deterring factor for some users. Additionally, the screen protector's compatibility is limited to newer iPhone models. Those with older versions of the iPhone will have to look elsewhere, as the UltraGlass does not cater to their devices.
Price and Where to Buy
The Belkin UltraGlass Screen Protector is positioned at a premium end of the market, demanding a price point that is noticeably higher than many of its competitors. This increase in cost is attributed to its high-quality features, which justify the expense for consumers who place a significant emphasis on ensuring their device's screen remains protected for an extended period. Individuals interested in purchasing this product have a multitude of options at their disposal.
It is readily available on renowned online retail platforms such as Amazon and Best Buy, catering to those who prefer the convenience of online shopping. Additionally, customers who favor a hands-on shopping experience can find the UltraGlass Screen Protector at physical retail locations, with the Apple Store being a prominent outlet offering this premium product.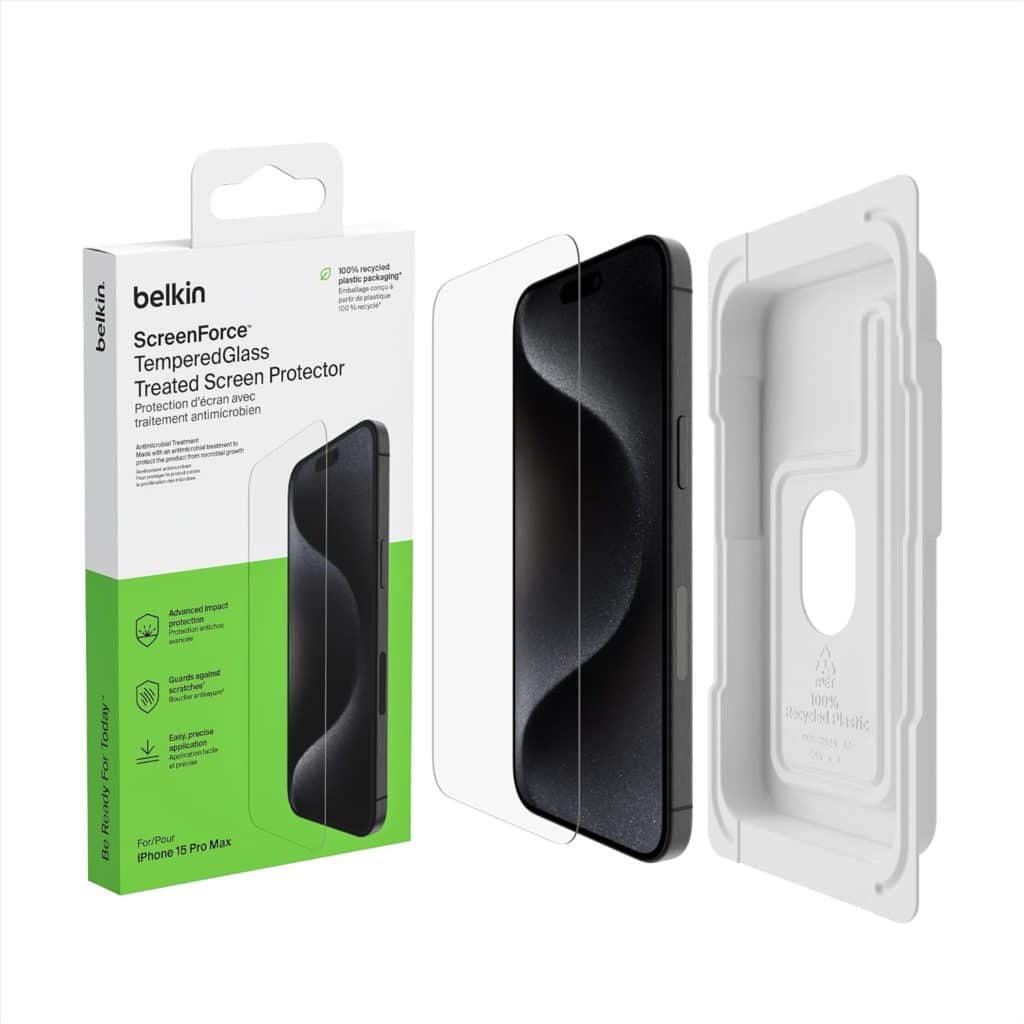 Product Comparisons
In the competitive market of screen protectors, the Belkin UltraGlass Screen Protector makes a remarkable statement in terms of its durability and the clarity it offers to the user. When placed side by side with other leading screen protectors, such as the amFilm Tempered Glass Screen Protector or the Spigen Glas.tR EZ Fit, the UltraGlass distinguishes itself. It boasts a robustness that assures users of its ability to withstand significant wear and tear, along with a crystal-clear view of their device's screen, enhancing their interactive experience.
Nonetheless, despite these superior features, it is important to note that its competitors have an edge over the UltraGlass in certain aspects. Notably, the amFilm and Spigen options are more budget-friendly, which can be a deciding factor for cost-conscious consumers. Additionally, they offer greater compatibility across a wider range of devices, which can influence the decision of users with less common device models or those who value versatility in their screen protector choices.
Conclusion
Making a final verdict on the Belkin UltraGlass Screen Protector, it's clear that the product checks off essential boxes concerning clarity, ease of application, and unparalleled durability—an excellent companion for your iPhone. However, it's essential to weigh these benefits against its premium pricing and limited device compatibility. Our recommendation? For iPhone owners who often find themselves in environments that could pose a risk to their devices, spending a bit extra for the peace of mind offered by the UltraGlass could be a wise investment.