There are many reasons why you would want to clear the WhatsApp cache on your iPhone. From cybersecurity reasons, which are not to be disregarded, to clear some space on your device, to fairly private and emotional reasons as to why you don't want some messages to exist.
Thankfully, there are four easy steps on how to clear this data and they can be simply followed by anyone:
Open the app
Find the option 'Storage Usage'
Find the chat you don't want
Clear the data
But, you need to remember that because of P2P encrypting and communication, you will be deleting only the data on your device. Due to WhatsApp's security features that don't keep any data on a third-party server, the other person will still have the full char history.
While this might sound troublesome, it is the better option. Because everything is on your device, those without access to your SIM card won't be able to see your chats.
That still means that you will need to keep your phone and data a relative secret, as cards can be cloned, but you won't need to fear a brute-force hack. IRL brute force from your significant other wanting to see your chats is a whole different story, and developers are yet to make an app for that.
Never Trusting Facebook
WhatsApp is owned by Facebook. This makes a slight disparity because while WhatsApp is known for its security and stability, its parent company is known for the opposite.
Currently, there is no indication that Facebook is in any way collecting user data or chats over WhatsApp. Even tests haven't provided any results which might indicate some misuse.
But, in the modern world of Big Tech, being slightly paranoid is usually a good way to go. You never know when Facebook will change the terms of service and give itself all of the rights to use anything you ever sent over WhatsApp against you.
Contact to Contact Clearing
Unlike most apps where the whole cache can be cleared at once, WhatsApp chooses to do that on contact to contact basis.
This can be beneficial for those cloak and dagger reasons we often want to delete all chats with someone. Namely, having all chats clear is, to avoid better terms: kind'a sus.
But, if there are chats to go years to the past and only one might be missing, nobody will notice anything wrong. Even if you are forced to unlock your phone by the police, they won't be able to find anything from that chat, especially if you also delete the contact.
Just follow these steps and you will be quick to clear everything from the chat.
Also, thankfully, WhatsApp has a 'dark mode', even in the settings, so you won't need to prepare your eyes for a blast like with Facebook.
#1 Open the App
Find the app on your main screen. Unlike some former iterations of iOS, there is no need to go into your system settings to clear anything. As a matter of fact, you won't be even able to delete the app this way anymore.
Simply find the WhatsApp icon on the screen and enter the main app screen. Here, you will be able to find what you need in the bottom right corner.
#2 Settings and Storage Usage
Regardless of your starting screen, the settings button will be in the lower right corner. But, if you are deeper in your messages you will need to exit that first and go to the 'chats' screen. Here, the button you need will reappear.
On this screen, you will see the option 'Data and Storage Usage', usually as the third from the bottom. This is the option you want as it will lead you to options on what to accept over WiFi or Mobile Data, as well as an option to manage 'Storage Usage'.
Once you are in 'Data and Storage Usage', you will see an option named 'Storage Usage' at the very bottom, just over the five home options. Here is where the data for all your chats are depicted.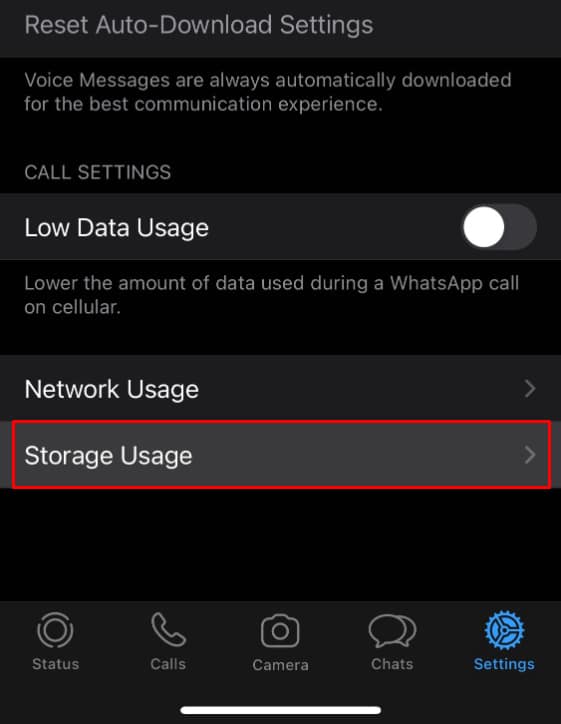 #3 Select what to Delete
You will now see the whole list of all of your chats. Some might be important, others you are choosing actively to forget. That is the nature of texting and there is nothing wrong with it.
If you have a lot of contacts, you might need to use the search bar at the top. But, if you see what you need to delete already, just tap on it and it will open the storage options for that particular person.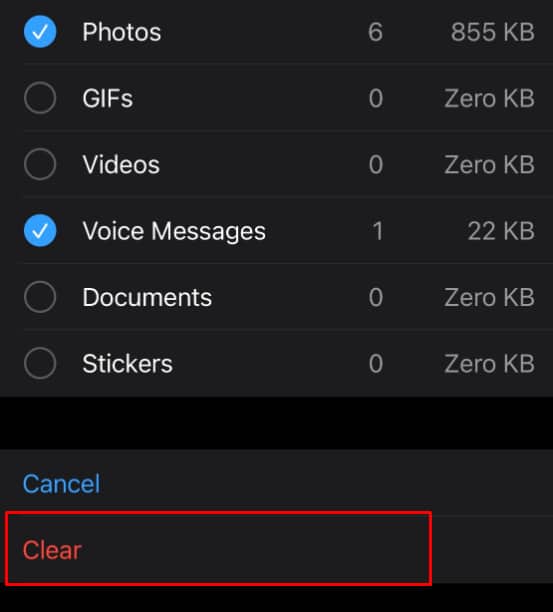 #4 Clear Data
On the very bottom, you will see a button named 'manage', once you tap it, it will change into either 'cancel' or 'clear', which indicates you want to delete the whole chat.
You can also choose to delete only pictures, or only videos from the chat and leave the rest open. This might be exactly what you need, especially if you want to save space by removing videos you have already downloaded or moved somewhere else.